Here you go kids. My room is looking spick and span with it's new tone. I believe I posted pictures of my old color a while back, but don't even bother looking at it. Imagine a lemon gets this lime and brings it back home. They do hanky-panky and end up copulating. Lime gets preggo and has little baby peace signs. To sum it up? NOT GOOD. In fact, the garish colors made me anxious at all times.
To rid my anxiety, I decided to tone my walls down a
bit
hell of a lot. To get precise the color is called "Niagra Falls", what a fancy dancy name. While painting, I listened to this 8tracks playlist, and wished I could put it on repeat for a lifetime. It reminds me of the sky in Moonrise Kingdom: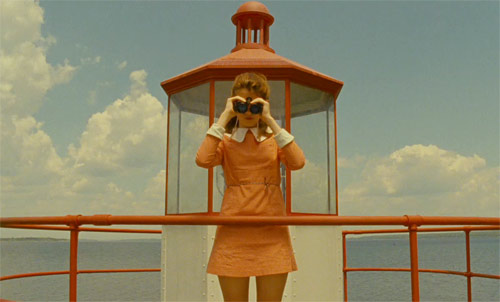 Ta-dah!
Dress & Shoes: Thrifted
So, in admiration of this new hue, I raided my parents' closet. While looking though that (sometimes) dark abyss, I happened to come upon this pastel polo. No, it's not my mom's. I was expecting it to be a bit shorter, but hey, pajama length shirts work well too. Not to mention, I felt a tad bit like Ebenezer Scrooge.
This dress and my peacock flats were finds at (yet another) thrift shop. Oh, guess how much these shoes were. No, really, guess!.........
ONE DOLLAR, MY FRIENDS. Yeah, I bed yuh didn't guess that.
Now, veering onto a whole new subject, I watched Tavi Gevinson's TedxTeen talk today. It's so exquisite, and I don't believe you have lived unless you see this. She is the most eloquent/creatively minded person I've ever heard. Watch. Now.
P.S. I'm going camping tomorrow!